I love Fridays! :) I love the weekends because I get to do fun things! I'm leaving work early today - a little after 1. I'm meeting C-Rod ( nickname for Chris I gave him way back because he played baseball - get it ARod?) at the house around 2ish. Then we are driving over the bridge to Indiana to get our taxes done. I'm praying for a fat return! I'm excited to see Chris because today is his first day doing observation hours at a middle school. I called him Mr.
Ryan all morning. He is going to make a wonderful (& hot) biology teacher!
Any-who after taxes I have got to do some laundry & dishes - my house looks too much like a bachelor pad right now! We don't even have kids yet and we can't keep things tidy!
Then tonight is GIRLS NIGHT! I'm so excited. Jacqueline, Tara and I are going to dinner and then to see DEAR JOHN! I know I'm married and everything but have you seen Channing Tatum's body?? A girl can lust...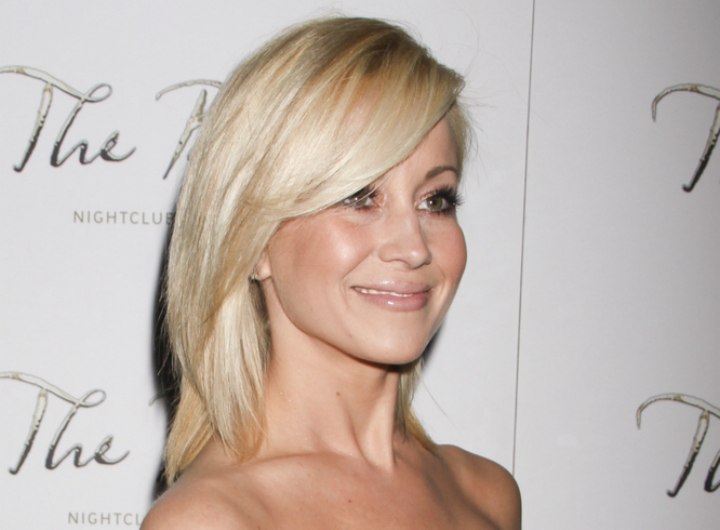 Tomorrow is hair appointment day and my roots desperately need it!!! I'm thinking about this for a cut but maybe a little more length and definitely not this bleached blonde probably just my regular highlights/lowlights combo. I just thought this was a really cute cut - I like the long swoop bangs too - I did long swoop bangs back in fall/winter 2008 seen in the picture below with Wilson. Yes he is at my desk at work. Haha - I work for my dad (and it's a construction business not a hospital!) and he behaves really well when he gets to come in!
Chris and I aren't big pro sports fans - we like college sports more but as far as NFL goes we like the Colts because they are the closest team to where we live. Plus I kind of have this weird crush on Peyton Manning. However I kind of want the Saints to win.
Have a great and safe weekend!! I will try and post pictures of my hair!!!
Are you going to see Dear John?
What are you doing for the Super Bowl?
Colts or Saints?
MOST IMPORTANTLY: What do you think of me getting my hair cut like that?? :)