I love Lady Antebellum's new cd - they are one of my favorite groups right now! My title is from their song
American Honey
... I have been listening to their cd in the car all week.
I don't really have much to talk about today so... I thought I'd blab about a few things I love and own and use on a regular basis. All of which are extremly materialistic! :) Enjoy!
1. Johnson's Baby Oil
An oldie but a goodie! There is nothing like rubbing baby oil on your damp legs after you have shaved! They will feel smooth for days! Plus they stay hydrated in these harsh, dry winter months! It works great for massages too! *wink*
2. My GHD Pure Dark Straightener
Thankfully this was a gift but if you are looking for a nice hair straightener you will need to invest a little bit. This bad boy heats up HOT in about 10 seconds and I have really thick naturally curly hair and I can have it all sleek and straight in about 25 minutes. Plus it came with a cute straightener bag and a dvd!

3. Green Amethyst Jewelry
I have this pendant necklace - I hinted to the hubby I'd like a ring to match for our anniversary. If not I will just buy it myself! LOL

4. My purple floral scarf from H&M
This scarf probably cost me a grand total of $12 bucks but I think it's so pretty and compliments my green eyes - or at least the color wheel says it should. The only problem about this scarf is I feel like I can't wear it with alot of things - I'm wearing it today with a boring black sweater.

5. MK Berry Kiss Lipstick
Everyone needs a lipstick shade that just makes an outfit. This is mine. It's kind of dramatic but I have plump lips and I like being dramatic everyday so that's why I wear it.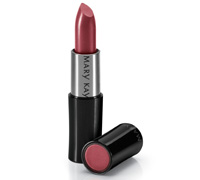 That's all for today! I will probably have more posts like this in the future since I love alot of things... Happy Tuesday!