TGIF! Sitting at work missing my baby girl. I've actually been super busy today but I wanted to post a quick blog while I snack on my lunch. I've been trying to stay motivated about losing weight and it's not happening. I've been slacking on my tracking. (Yes I know that rhymed.)
Anyways... in order to motivate myself I thought I'd take a looksee at some swimsuits. I no longer own any so I will have to buy one around May/June when I will hopefully have lost my 30 pounds.
Here are my requirements:
1. Modest - I'm a Mom now so I don't need my cleavage showing or butt hanging out. Not that I ever wore anything like that before I just don't want to be pulling up my suit over my chest the whole time I'm playing in the pool with Kendall.
2. One piece or Tankini - I know Mom's can wear bikini's but until these stretch marks fade I'm just not going down that road.
3. Solid colors - I'm becoming less of a print person in my wardrobe. I like solids for the most part because they are classic and timeless. I like adding some flair with pattern to accent pieces but I like to invest in apparel that I can wear a few years.
Here are a few swimsuits I've bookmarked in my favorites.
Retro One Piece - Victoria Secret
I love the fun color and retro aspect of this suit. I'd probably get some fun retro sunglasses and big retro beach hat to wear with it
Firm Control Retro One Piece - Victoria Secret
This one screams boring to me but I love the rouching(sp?) on it and I think it would be flattering.
C
Lauren by Ralph Lauren Swimsuit - Ruffled Tubini (Macy's)
This one is my style because it's pink and has ruffles. Plus I have curly hair and so does the model. :)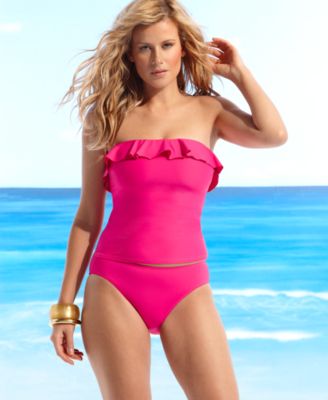 D
Magicsuit Swimsuit - Goddess One Should/One piece w/ Tummy Control (Macy's)
(NOT in this color!)
It kind of looks spandexy (yes that's a word in my vocab) but it says it has tummy control.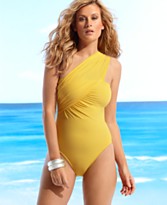 For fun here are some swimsuits I think are hideous and you will never see me in! Yuck!