Today I'm linking up with
Shannon
for So What Wednesday.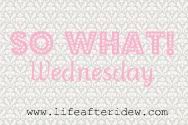 So What if...
Kendall has tasted both cheezits and red velvet cake already (and loved both... she most certainly is my daughter)
I'm too lazy to make a follow up dental appointment and hair appointment today... I can do it tomm right?
one of our living room couches is sitting in our kitchen (still!) from wood floor installation 2 weeks ago
Kendall ends up in our bed every night... the important thing is she falls asleep in her bed, right?
if I overuse and miscorrectly use an elipsis (...) all over this blog... this isn't school
I'm sooooo ready for lunch, even after eating my breakfast and cheezits
Kendall and I play and watch movies every night while Chris is working
I've started a spreadsheet for Fall tv premieres
I will probably spend a small fortune on Kendall's 1st Birthday and she's too young to remember it!