I'm linking up with Shannon at L.A.I.D. for SWW.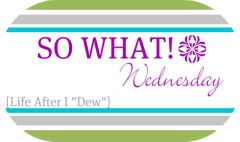 This week I'm saying SO WHAT IF:
We are still living in my parent's basement. We are on the upswing of moving into our new house… I hope.
Kendall still eats baby food sometimes. I'd rather feed her pureed green beans than her eat crackers all day!
I've yet to weigh myself in 2012
I didn't have a coke in 2012 until yesterday… I was having withdrawal headaches
my dog has been a total diva since getting his hair cut last week. Living at my parents house where he is constantly spoiled isn't helping either
I let my kid scream in Target today. I needed to get a few things and didn't stay long anyway. Girlfriend needs to chill.
Picking out window treatments for our new house overwhelms me so I don't. I will just throw sheets over the windows (redneck) until I'm ready to deal. Ha!
Happy HUMP day ya'll! What are you saying SO WHAT to?