If you are singing that rap song now we would be BEST friends in real life.
So... today I am linking up with
Mel @ 4KOTTEZ for her tattoo link up
...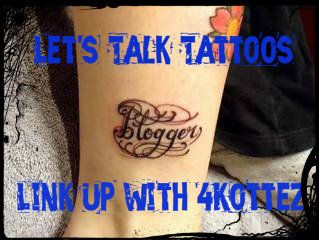 I DO NOT have a tattoo, never been a fan of tattoos, and don't plan on getting a tattoo. BUT I love all my inked friends and bloggy friends and wanted to link up for fun!
IF I ever planned on getting a tattoo (which wouldn't happen because I'm too indecisive) I would probably do something very simple like this...
And it would have to be something very symbolic to me. Like an ichthys or a little star.
Here are things I don't GET about tattoos...
Why someone would ever get a boyfriend/girlfriend/husband/wife/partner's name on their body? You are just asking for a breakup.

People that get their child's name/birthdate/picture of infant on their back. Like, when you have 4 other kids are you going to do all of that for them too? You will run out of skin!

Tweety bird/Mickey Mouse/Big Bird Tattoos... that is all.
I kid, I kid. To each their own! Tattoos can be a great form of expression for people.