Linking up with
Darci
today for Santa Picture FAIL.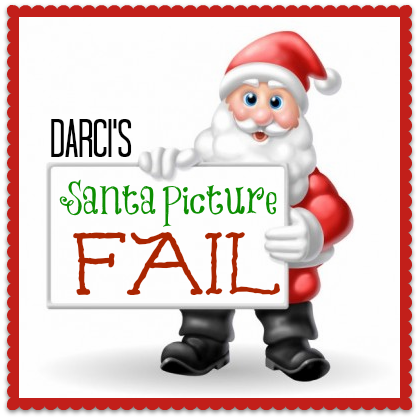 I love a good screaming kid on santa's lap picture. I told my husband it was a rite of passage for a child. If your kid doesn't scream on Santa's lap atleast once in their lives… you may want to revisit that whole stranger danger discussion.
We did not visit Mr. Claus last year. Kendall was 14 months old and she didn't get it then, so I was super excited to take her this year because she is so aware of everything Christmas now.
She wore this adorable outfit my mom bought her and my mom even helped Kendall color Santa a card. Chris and I took her to Kroger because it was close to our house and $5, much cheaper than the mall… and did I mention no line to wait in???
When we got to Kroger she spotted Santa a few aisles down and was so tickled to see him. She said Hi and handed him her card. He then gave her a candy cane which made her oh so happy! I was feeling good about the photo because they had warmed up to one another.
Not so much. Girlfriend wanted nothing to do with sitting NEAR that man.
I don't blame her I guess. It is weird. She doesn't KNOW him. I sent the picture to my mom and this was our conversation.
Mom: Borderline child abuse?
Me: Probably
I'm one of those weirdos who doesn't want to make a big deal about Santa. I mean my kids will believe in him, but I don't really talk about it all the time. BUT I will have a forced Santa picture every year because it builds character. Ha!
Go link up with
Darci
for more Santa FAILs!