Housekeeping first...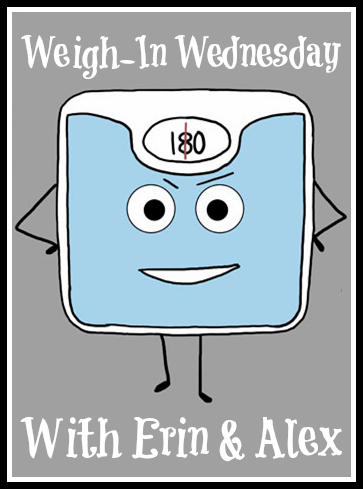 I had another NSV this week. I am a very comfortable size 10 and medium/large type gal. It honestly depends on the store or brand. Most of my jeans and capris are Simply Vera Wang from Kohls size 10 and they are getting loose. With tops since I am blessed in the chest department it just depends on the style of top. I don't like wearing tight or really revealing clothing. If I wear a low cut shirt I end up walking through Kroger with a bra strap or cup showing because Kendall has pulled it down when we were walking in the parking lot and I didn't adjust myself after sitting her in the cart. True Story.
Anyways, I don't really shop at Old Navy but I always go there to stock up on shorts, sundresses and tanks for the spring and summer. Kendall and I went Saturday and I picked up a size 12 shorts and large tank top. I tend to always wear bigger bottoms at this store. Well I was shocked when both items were too big.
Cue Happy Dance.
I went back Monday afternoon to buy more tank tops because I loved the one I bought so much and I fit into mediums again. I even instagrammed this picture.
I officially could care less about the scale. There is NOTHING better than seeing physical changes in your body and buying smaller clothes. LOVE it!
Oh and I don't weigh myself this week of the month. You ladies know what I'm talking about!
I was invited to participate in this fun link up and I thought it would be a good way to kick off a series of posts for my blog. I love to write and I would really like to write down memories for myself and Kendall to have. I have seen many of my favorite bloggers doing this recently sharing how they met their husband, etc and I thought it would be fun. So first let's start with the ring.
Circa August 2007, I was your typical annoying, badgering, wanting to get engaged girlfriend. I don't really know what my problem was, I knew we were going to get married. In fact, I had known it pretty early on. But that didn't stop me from designing rings online and bringing up ring cuts every chance I got with Chris. I guess a part of me really thought I would have to do the work for him. I was clueless.
(my wedding band in his hands on our wedding day)
Chris had purchased my engagement ring weeks before it ever found my finger. He went to a big jewelry store in Louisville where they educated him on diamonds. He chose the diamond first and then selected a band.
I will be honest, I would have NEVER picked my ring out. I'm not a princess cut fan. I'm just not. I also wouldn't have picked out the band with the cascading smaller diamonds. Call me a brat but I'm just being honest.
BUT here's the thing. I LOVE my ring because HE picked it out! I am a traditional girl and I would never have wanted to pick out my engagement ring. it is so special to me because he chose it for me.
(taken the night we were engaged)
(showing my parents the night of our engagement... FYI he proposed at a baseball game read HERE)
And here it is today with my wedding band. We went together to pick our wedding bands out.
I wear it all the time and feel naked when it's not on my finger! Love it so much! Love him so much!