Happy Monday!
This weekend was one of those refreshing weekends where we stayed around the house with the exception of a few outings. Saturday Kendall and I ventured to my cousin Adam's new house and then we went out for pizza. This pizza place had a train deliver your drink to your booth and Kendall and Caleb went crazy. So much fun! We will definitely go back!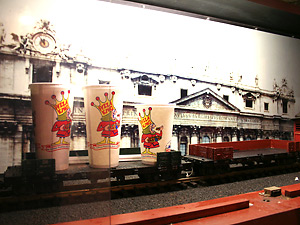 Yesterday, Chris took Kendall out to Best Buy and to visit his parents. I hate not going with them but I had so much school work to do that I have procrastinated on! Plus Kendall is always with me and its good for her to have one-on-one time with her daddy.
After I finished my school work in silence (yay!), I talked on the phone with a longtime friend and loaded the dishwasher. My life is so exciting these days! Ha! I am never in my house alone so it was nice to just chill out.
I realized that I have never updated the blog about potty training. Kendall has been a rock star! She is fully potty trained and we are so proud. I truly believe we picked the perfect time to potty train and I am so happy she is such a big girl. She is so proud of her potty skills and her cute panties! :)